County Unites to Adopt 100% Renewable Energy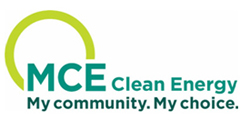 December 20, 2017 - Murphy International installed the first commercial wind turbine in Marin and provided pro-bono technical and financial services to the original establishment of the Marin county Community Choice Aggregate formation. Further recognizing, Marin as the first County in California to have all local governments enrolled in 100% renewable electricity!
This fall, Marin became the first county in the state to have 100% renewable electricity for all of its county, town, and city municipal accounts. Together, all 12 municipalities have eliminated an estimated 3,570 metric tons of pollution, or the EPA equivalent of removing 764 cars from the road in one year. With all public buildings, streetlights, and other municipal accounts adopting Deep Green 100% California-sourced renewable energy, Marin County will eliminate an estimated 3,570 metric tons of pollution, or the equivalent of removing 764 cars from the road in one year. Read more about this environmental victory!


MCE staff & call center trainees at workforce development training
Public-Private Partnership Brings Local Jobs to Pittsburg
In preparation for the launch of a new MCE call center in Pittsburg, a five day workforce development training was organized by Future Build East County, the City of Pittsburg, Calpine, and AnswerNet. "The partnership...fulfills local job needs, brings sustainable development, adds momentum to the County's Northern Waterfront Initiative, and creates a platform for developing more multifaceted partnerships," said Pittsburg Council Member Merl Craft. Get the details here.


Left to Right: Dawn Weisz, MCE; Supervisor Kate Spears, MCE Board Director; Howdy Goudey; Rebecca Milliken; Mark Miner, El Cerrito EQC
Community Advocates Recognized for Environmental Leadership
MCE's Board of Directors honored Sarah Loughran and Helene Marsh, in connection with the Environmental Forum of Marin, the El Cerrito Environmental Quality Committee (EQC), and the Sierra Club Bay Chapter's Melissa Yu with the 2017 Charles F. McGlashan Advocacy Award. Learn more about the outstanding efforts of this year's recipients!